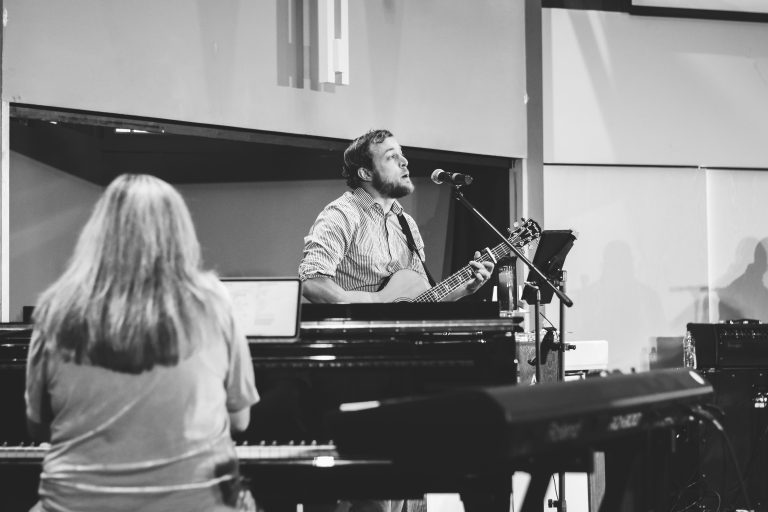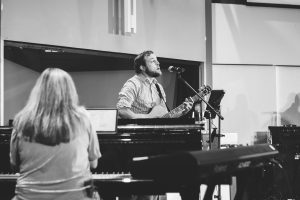 Shepherd of the Valley offers a variety of music opportunities for all ages, with the purpose of expressing and leading the congregation in the praise and worship of the one and only triune God of Father, Son, and Spirit. Our groups are open for anyone to join. We currently have several groups who provide music and help lead worship during our Sunday morning worship services. We also put together small vocal ensembles, special choirs, and instrumental groups throughout the year for special services.
CONTEMPORARY WORSHIP PRAISE BAND:
Our praise band is comprised of several instrumentalists and vocalists and leads the congregation at our 10:30 a.m. contemporary worship performing the latest music by artists popular on Christian radio including Crowder, Paul Baloche, Phil Wickham, Hillsong Worship, I AM THEY and many more. Check out music frequently played at our 10:30 a.m. service on our Spotify page here.
GOOD NEWS (HIGH SCHOOL YOUTH PRAISE BAND):
Our high school youth band, Good News, is also a full instrumental band with vocalists who lead worship at our 10:30 a.m. contemporary service several times throughout the year using songs popular on Christian radio stations like Life 107.1 (local). This band is also often asked to lead worship during the Iowa District West High School Youth gathering in the fall.
ADULT CHOIR:
Our adult choir is a group of men and women who perform SATB arrangements of choral music during our regular worship services, as well as special performances during the Advent and Lenten seasons. This choir rehearses on Monday evenings at 7 p.m.

UNITY:
UniTy found its beginnings as The Shepherd's Staff, a mixed vocal ensemble formed at SOTV in 1979. When that group retired around 2004, the female members felt God's calling to continue their musical journey praising the Lord in song as a quintet. UniTy performs a variety of musical styles, including both contemporary melodies and traditional hymns, and favors Gospel songs with a Southern flair. UniTy usually performs once a month at our 8:00 a.m. worship service. The group also sings at various outreach events.
JUBELLATION HANDBELL CHOIR:
JuBELLation is the adult handbell choir at SOTV. This group performs a variety of music, ranging from traditional hymns to contemporary praise songs. The group generally performs once a month during both 8:00 and 10:30 a.m. worship services, September through May. JuBELLation also performs at outreach events in the community, usually around Christmastime. Practices are held Thursday evenings from 7:00 - 8:00 p.m. with an optional Bible study immediately following. There are no requirements to participate in JuBELLation – ability to read music is desirable, but not required
BELL-IEVERS KIDS HANDBELL CHOIR:
BELL-ievers: Our children's handbell choir is for kids in grades 3-8 who are interested in building their music skills while working as a team to share God's love through playing the bells.  No previous musical experience is necessary.  All are welcome to join in the fun of making sweet sounds for Jesus!
If you are interested in joining or would like more information on our music groups, please contact Angie, Director of Music Angie@sotv-wdm.org.